The journey to expand and renovate Kapiolani Medical Center for Women & Children started with a dream and donors.
Contributions significantly helped to fund the building of the new Diamond Head Tower. The Campaign for Hawaii's Children proved how committed our community is to the care of kids.
Today the dream continues with a fresh start to another project. The future space of the Emergency Department will be on the ground floor of the Diamond Head Tower. Kapiolani, as the state's only specialty hospital for women and children, has a highly trained emergency team that cares for everything from bumps, broken arms and pediatric trauma to rare infections. On average each year, 45,000 patients visit Kapiolani's Emergency Department from mothers-to-be to teens and seniors. Kapiolani has the only team of board-certified pediatric emergency medicine physicians and adult emergency medicine physicians on site 24/7. Having doctors who specialize in critical care needs for pregnant women, infants and adults is the difference between life and death for some families. Kapiolani has an emergency care staff with the expertise to detect serious illnesses like cancer and heart failure and provides collaborative adult care through its system relationship with Straub Medical Center.
There are many distinctions that make Kapiolani's Emergency Department an invaluable community and state resource. As the only hospital in the Pacific to hold a Level III pediatric trauma center designation from the State of Hawaii, Kapiolani plays a critical role in the health and well-being of our keiki. No matter what island or what part of Oahu, Kapiolani reaches children in emergency situations across the state through its Pediatric Critical Care Transport program via air and ground transportation. Daily care at Kapiolani's Emergency Department also includes being the main clinical site for the Sex Abuse Treatment Center which offers statewide care 24-7 from medical-legal exams to treatment and therapy.
The new space will only enhance that experience and the workflow by more than doubling the space of the existing Emergency Department. The new designs will incorporate all private treatment rooms, trauma rooms and triage rooms. These large private rooms will continue the family-centered care focus that was initiated with the expansion of the new Neonatal Intensive Care Unit and Pediatric Intensive Care Unit. One room for each patient and their family allows family members to always be at the bedside of patients and play an active role in the healing process. The new Emergency Department will also have imaging services readily available in the space. A larger waiting area and a family space will help make the initial arrival to the hospital more comforting.
Emergencies are never something you can plan on, having a medical center that can care for your loved one when time is of the essence and medical expertise is needed in a moment's notice brings all of Hawaii's families' peace of mind. To be a medical leader in Hawaii, Kapiolani has made significant investments in highly qualified personnel and state-of-the-art equipment for more than 70 different specialties and subspecialties that can heal and give patients a better quality of life.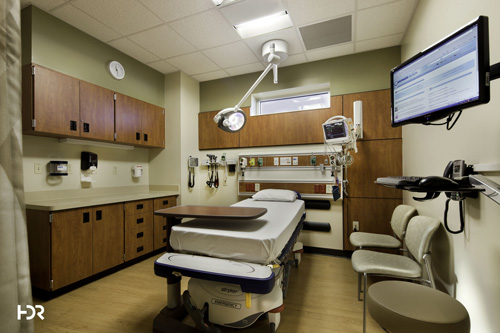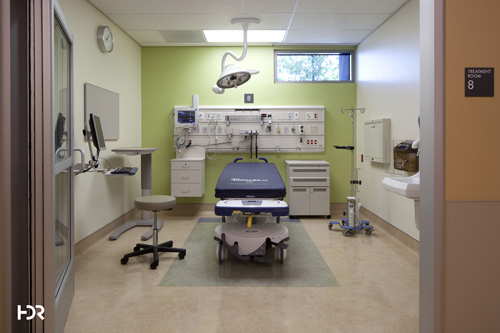 Renderings of future spaces that will be built for the new Emergency Department at Kapiolani.