Children's Miracle Network
---

The medical staff instilled hope in us. They gave us Xander back. They saved our son." 
Ronnie Cabales, father of Xander, Hawaii's 2022 Children's Miracle Network Hospitals Champion
---
Ways Your Support Helps
Kapiolani Medical Center for Women & Children has been Hawaii's only Children's Miracle Network hospital since 1984. Children's Miracle Network Hospitals is a nonprofit organization dedicated to saving and improving the lives of children by raising funds for children's hospitals across North America. Each year, the 170 Children's Miracle Network hospitals provide medical care, lifesaving research and preventive education to help more than 17 million children overcome diseases and injuries of every kind.
How is this done? By people – just like you – who generously donate to Kapiolani Medical Center, either through individual gifts or corporate campaigns. Corporate partners such as Costco Wholesale, Walmart, Sam's Club, Ace Hardware, Marriott, Panda Restaurants, Credit Union for Kids, IHOP and more all participate in fundraising campaigns in Hawaii marked with the signature Miracle Balloon icon throughout the year. Supporters can also participate in signature programs and events, like Radiothon for Kids and Extra Life each fall.
One-hundred percent of the money raised in Hawaii stays here to help our keiki, regardless of a family's ability to pay. Your gifts support meaningful programs that otherwise would not be possible. A few of our programs include: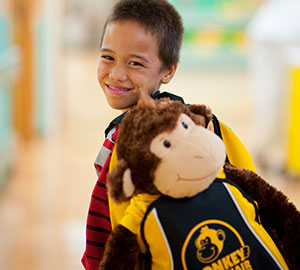 Educational Support Services
Whether a child is in the hospital for a few days or for an extended period of time, Kapiolani has a dedicated educational outreach liaison to support their learning needs. Donations also fund a national program called "Monkey in My Chair," which helps pediatric cancer patients stay connected to their school and classmates. The kits include a big stuffed monkey that takes their place in school when they are unable to be there as a way to help teachers explain the child's medical situation to their classmates.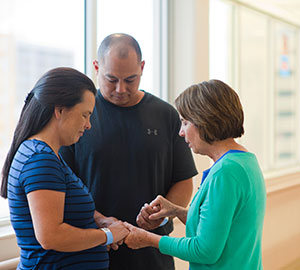 Chaplaincy Program
In an age of complex medical technology and interventions, hospital chaplains offer a rare and valuable opportunity for patients and families to care for their personal, emotional and spiritual concerns. Hospital chaplains provide support and guidance that help patients and their families cope with the hospitalization, treatment and disease process.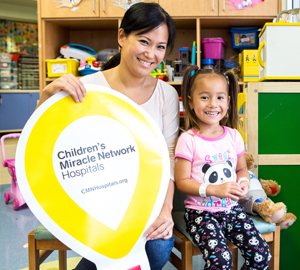 Miracle Balloon Campaign
The Miracle Balloon icon campaign is our signature fundraiser. Children's Miracle Network Hospitals corporate partners across the country raise more than $3 billion annually, much of which is raised $1 at a time by selling icons for $1 or more, writing names on the front and displaying them in a fun way. To host a Miracle Balloon icon campaign for Kapiolani CMN at your business, office, school or fundraiser event, contact Colette Forcier at 808-535-7112 or colette.forcier@hawaiipacifichealth.org.
Every Donation Counts
Your gift to Kapiolani Medical Center for Women & Children, Pali Momi Medical Center, Straub Medical Center and Wilcox Medical Center will help us create a healthier Hawaii for our patients, our communities and our state.
Gifts to our Hawaii Pacific Health medical centers enable us to:
Create programs for preventive care, lifesaving services and emotional support.
Invest resources to promote health and well-being.
Purchase equipment to advance technology.
Train physicians and caregivers and transform patient care now and for the future.