Stephanie L. Saito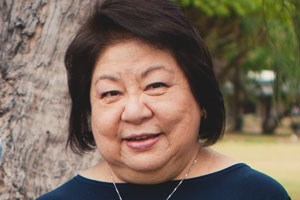 Stephanie L. Saito was born in 1951 to Kenneth and Yaeko "Doris" Mau and went home to be with Jesus on May 3, 2022. A graduate of St. Andrew's Priory and the University of Hawaii, Stephanie spent her career in banking, primarily at Bank of Hawaii minus a stint as part of Bank of America's initial leadership team in Hawaii. Starting as a management trainee, she excelled and retired as an Executive Vice President of the Hawaii Commercial Banking Department for Bank of Hawaii.
A devoted wife, mother, grandmother, sister and friend she built caring relationships with everyone she met from her "hana bata days," and throughout her career. She was a consummate professional who led by example and always sought to invest in helping people be the best version of themselves. A warm, caring person, she took a sincere personal interest in everyone, and this attitude resonated with those who knew her personally and professionally.
She will be sorely missed by those who remain until we meet again in heaven. She is survived by her husband, Steven Saito; son, Kevin (Elaine) Saito; daughter, Michelle (Todd) Kaneshiro; sisters, Roberta (Stan) Ono and Valerie (George) Watanabe, and four grandchildren.
Make a secure online gift now by using a credit card or, if you prefer to make a donation by mail, click here to download the form.
---