Inspire 2019 SPRING
Straub: Supporting Innovative Heart Care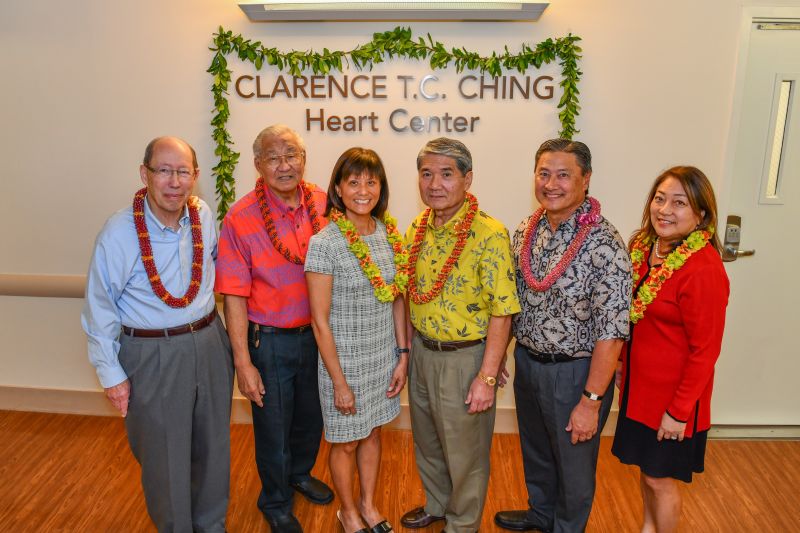 The better our hospitals are, the better our doctors are, the better the community is.
The legacy of one of Hawaii's most influential businessmen and philanthropists is helping save more lives at Straub Medical Center. The new Clarence T.C. Ching Heart Center will soon be expanded with two catheterization surgical suites, thanks to a $4 million gift from The Clarence T.C. Ching Foundation. The expansion is part of a $24 million renovation of this critical medical care center. The new technology will support surgical techniques of today and innovative procedures of the future.
"We are pleased to provide the lead grant in this important project for Straub Medical Center," said Jack Tsui, chairman of The Clarence T.C. Ching Foundation. "Among Mr. Ching's visions were to provide for the needy, sick and aged in Hawaii. Expanding Straub's Heart Center is a significant step in this direction."
This is the largest gift the Straub Foundation and the Foundations of Hawaii Pacific Health have ever received.
"This gift really advances our cardiac care and continues to enable us to help save more lives," said Art Gladstone, chief executive officer for Straub Medical Center and Pali Momi Medical Center. "This donation speaks to the faith that The Clarence T.C. Ching Foundation has in Straub and Hawaii Pacific Health. Foundation leaders trust that we're going to utilize these funds the best way possible to care for our community. We are forever grateful for their generosity."
Straub is nationally recognized for its expertise in cardiac and vascular care, as well as for excellence in patient safety and experience. Most recently Straub began a Structural Heart Program with the completion of a hybrid suite which is also part of the newly-renovated Clarence T. C. Ching Heart Center. This new program expands heart valve repair and replacement options for patients.
"With this technology, we can offer less invasive procedures to patients who really didn't have a lot of options before," said Dr. Jeremy Lum, chief of cardiology at Straub. "You know, it's a moving target when it comes to technology and innovation in medicine. So for us, the most important thing is that this investment in heart care, is going to help us take better care of patients."
"We will continue to be able to perform leading-edge procedures, recruit some of the top specialists in our field and enable the exchange of ideas and opinions," said Dr. Roy Chen, medical director of Hawaii Pacific Health Heart Centers. "This significant donation is helping Straub take heart care in Hawaii to the next level."
This $4 million gift is another forward-thinking move from the foundation of the late Clarence T.C. Ching, an innovative developer, realtor, banker, affordable-housing pioneer and philanthropist. Ching was born on Kauai in 1912 but grew up to develop areas around Honolulu Airport, Salt Lake, Moanalua, Fort Shafter and Tripler Army Hospital. In 1970, he built the 22-acre Kukui Gardens, one of the largest affordable-rental projects in the state which is now home to about 2,500 people in 857 units.
"The better our hospitals are, the better our doctors are, the better the community is," said Tsui, the foundation's chairman. "Mr. Ching would have been very happy and excited to be a part of this presentation."
Helping Heart Patients Like Sam Inoue
Samuel Inoue is among those with a personal interest in the Clarence T.C. Ching Heart Center at Straub.
"I have to express my gratitude to the Straub donors who so generously contributed to the establishment of the new heart center and hybrid cath lab," Samuel said. "If they didn't have this kind of technology, I probably wouldn't be alive today."
It happened just after he retired from 60 years of government service. Samuel started having chest pains and had trouble catching his breath. He ended up in Straub's Emergency Department.
Samuel had a history of heart trouble; doctors had already inserted seven stents in his heart. But this was something different. His aortic valve needed to be replaced. Samuel became the first patient to undergo the TAVR procedure in Straub's new hybrid suite.
"TAVR is a way that we can replace someone's aortic valve without open heart surgery," said Dr. Jared Oyama, interventional cardiologist at Straub. "We make a quarter-inch incision in the groin right at the crease of the thigh and that allows us to use the body's own plumbing to follow it back to the heart and we can put in a new heart valve that way."
This new technology meant less risk and a faster recovery for 86-year-old Samuel.  
"In Mr. Inoue's case, where everything went very smoothly, he was out of the procedure room before noon and up in a chair before dinner time," Dr. Oyama said.
"My wife really recognized the big change in me after I had that procedure done because right away she noticed my color changed and I wasn't getting out of breath," Samuel said.
A new lease on life has inspired Samuel to consider traveling again. He and his wife are looking forwarding to a future trip to Japan.