Inspire 2019 SPRING
Wilcox: Philanthropy Starts With Us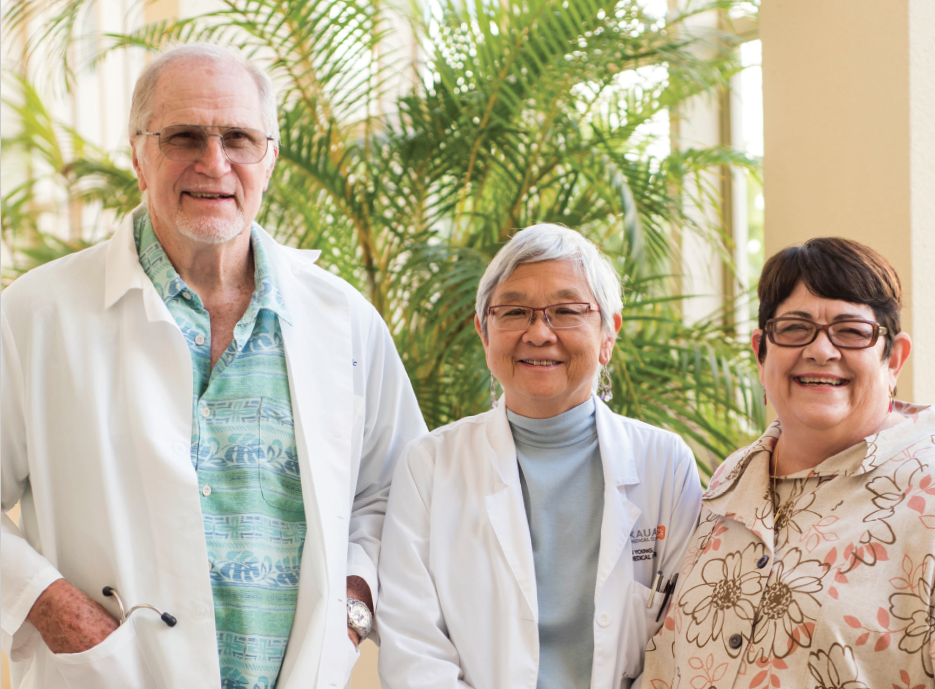 You have to be a part of the community in order to make a difference and that's what we're doing by giving to Wilcox.
Philanthropy Starts With Us
Cathy Adams, Dr. Monty Downs and Dr. Geri Young have a combined 102 years of service at Wilcox Medical Center. While each of these dedicated staff members has a unique story about how they arrived at Wilcox, they are all commemorating their careers through philanthropy. The major gifts are funding the renovation of exam rooms in the Emergency Department.
Remembering Peter
Cathy Adams considers her late husband, Peter, the love of her life. "His most distinguishing characteristic was he made me laugh," said Cathy, director of patient safety and quality. The couple actually met at Kapiolani Medical Center for Women & Children when they both arrived to visit a mutual friend. "She had been trying to set us up for the longest time and then got sick," Cathy said.
"We went out and then probably within three or four months we were talking seriously, moving in and getting married."
Their life together led them to Kauai. Soon after their move, Peter suffered multiple strokes, leaving him disabled and making Cathy and Peter frequent visitors to Wilcox's Emergency Department. But the couple enjoyed a loving, solid relationship until Peter passed away in 2018.
Cathy felt strongly that the best way to capture the spirit of his care and express her gratitude for staff would be to donate to Wilcox in honor of Peter. "I wanted to recognize their kindness, and make a contribution to Kauai because it's our home," said Cathy. "You have to be a part of the community in order to make a difference and that's what we're doing by giving to Wilcox."
A Leader for the Emergency Department
For nearly five decades, patients in the Emergency Department at Wilcox Medical Center have expected to see Dr. Monty Downs. When emergency medicine was first introduced at Wilcox, Dr. Downs found the schedule of 24 hours on shift and 24 hours off very appealing. The work, however, was challenging because the overall concept of a specialized doctor there was still new. "There was no such thing as ER doctors back then, even nationally," said Dr. Downs. "Pretty much in the mid-'70s is when it started happening.  Our job was to know a lot about a lot of things. We may not know as much as each specialist, but, for example, we know a lot about someone with chest pain or a pregnant woman with a stomach ache. We could get things going and call on specialists if needed.
That wasn't all the doctor did for patients. During slow periods, Dr. Downs would go from medical to musical. "I'd always bring in my guitar, and became pretty good at Christmas carols and cowboy country songs," he said. He even played the harmonica.
Dr. Downs along with several key colleagues did a lot to establish emergency medicine on Kauai. His expertise was validated in 1983 when he became the first board-certified emergency room physician on Kauai.
Dr. Downs has seen his department evolve beyond the original one-room facility. He distinctly remembers when the paper chart system was upgraded to include a new resource called a "computer," and when the first CT scan arrived to offer state-of-the-art imaging in the 1980s.
Today, Wilcox averages 25,000 emergency visits annually. Dr. Downs credits modern medicine and technology for improvements in patient care. With his donation, he and his wife, Elaine want to ensure the emergency care he helped establish will be there for him and his loved ones in the future.
Beyond that, the physician says giving is another positive way to balance the mentally and physically exhausting work of emergency shifts. "Overall you have to maintain an attitude of really appreciating being a part of peoples' lives," Dr. Downs said. "We see life at its most vulnerable states."
Passionate About Pediatrics
Everywhere Dr. Geri Young goes, people tend to stop her with one question; "Do you remember me?" That's what happens after caring for three generations of families on Kauai. "It happens more times than I can count and I don't recognize them because they're all grown up," Dr. Young said. "So I have to ask them, 'What's your full name again?' And then, I say 'Oh my goodness, I remember you!'"
After 25 years in private practice, the pediatrician became Kauai Medical Clinic's Chief Medical Officer.  This new role means Dr. Young continues to work overnight shifts in the emergency department. "I have a big warm spot in my heart for that ER," Dr. Young said. "It's the first thing people see and it's really evolved for the community. They know they can always count on people to take care of them."
Dr. Young isn't the only one in her family who is familiar with the ER. Her husband, Dr. Robert Teichman, was one of the first emergency room doctors when they both started at Wilcox in the 1980s. "When we first moved to Kauai there were only three emergency doctors and now there's at least 10 along with four general surgeons who are all trauma certified," Dr. Young said. "It's powerful."
Dr. Young and Dr. Teichman are proud their donation will upgrade an exam room because they are grateful for the opportunity to work at Wilcox. "It has been such a precious gift to have been able to practice on a neighbor island to get to know the families," Dr. Young said. "Hopefully more people will give back to Wilcox."