Inspire 2020 FALL
CMN: A Champion Who Never Gives Up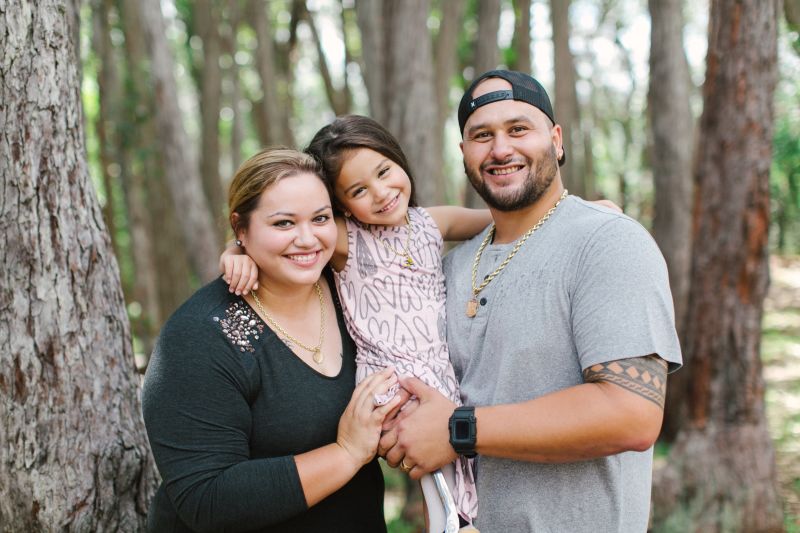 Now all of the fundraising that we've done is actually hitting home for us – with it helping Haumea
Charmaine Naauao-Ocasek, Haumea's grandmother
Haumea Friel isn't your typical 5-year-old. She may be young, but she is strong, confident and often says, "I never give up!" Haumea's easy radiant smile does not reflect her remarkable journey.
Before Haumea was born, tests revealed she had a rare birth defect known as proximal femoral focal deficiency (PFFD) in her right leg. PFFD is a condition where the femur, or thigh bone, either is malformed or missing, causing one leg to be shorter than the other. The unexpected news sent her parents, Kainoa and Calen Friel, spinning into a rollercoaster of emotions.
"We were worried because at that point we had nothing to go on," Kainoa said. "It was a struggle thinking of the unknown. We didn't know what to think but just prayed for her safety."
The condition only affects about 1 in every 200,000 children. Because of the complexity of PFFD, there is no one-size-fits-all solution.  Baby Haumea would require the experience of a multidisciplinary team of experts to create a customized plan of care. Fortunately, the Friels had the team at Kapiolani Medical Center for Women & Children from day one.
In her first five years of life Haumea has undergone 10 surgeries. It's been a challenging process to say the least for a little girl.
"She first started off with a prosthetic and then when she was 2 years old she had a super hip surgery," Kainoa said.  "In between all of that, she was in a body cast for like six to eight weeks depending on how well the bones knit together. Then she would have to do physical therapy, learn how to walk again, and then the hip surgery wouldn't stick."    
 "She would run and have one good step and be like 'Oh my hip,'" Calen said. "It was probably banging out and then would pop back in."
Multiple reconstructive hip surgeries didn't work. Eventually Kapiolani orthopedic surgeons Dr. William Burkhalter and Dr. Robert Durkin determined a rare procedure, called rotationplasty, was her only option. The surgery took 16 hours.
"Haumea came in with a very complex problem," said Dr. Burkhalter. "The rotationplasty basically turns the limb around so that the knee that she has functions as a hip for her and the foot that she has functions as a knee for her that can be fitted for a prosthesis."
Today Haumea is flourishing. She even took a giant leap in her recovery process; she got a prosthetic leg which she's proudly named Sparkle. It's a fitting name that matches Haumea's effervescent personality.
"Sparkle is my prosthetic leg that can help me walk and run and bounce; nothing can stop it," said Haumea.
Her treatment continues through physical therapy to teach Haumea to walk without assistance. Her ultimate "favorite person," in her own words, is "Aunty Stacie," Stacie Keliinoi, who leads her physical therapy at Kapiolani's Rehabilitation Department.
"She's having to deal with her foot now in a new position facing the other way," said Kellinoi, a Kapiolani physical therapist. "But Haumea just overcame. She showed up twice a week to do new things every time with a great attitude. Haumea's now walking on the treadmill saying, 'Auntie Stacie, I want to learn how to run.'"
Haumea has continuously defeated the odds and triumphed over adversity when it comes to what she calls her "super leg."  It's for her strength and courage that Haumea was named the 2020 Children's Miracle Network (CMN) Champion for Kapiolani in front of hundreds of supporters from across the state at the inaugural CMN Partner Celebration. She's already an impressive ambassador for Kapiolani.
"The progress is incredible," Dr. Burkhalter said. "This isn't just Haumea, this is Haumea's family. They get that and there's not a sense of 'why me' at all."
CMN partners at the celebration were also the first to receive Haumea's Champion pin. Haumea designed the purple-colored heart outlined in pink, which are her favorite colors. The glittery purple also matches the color of Haumea's prosthetic leg "Sparkle." The heart represents the love that surrounds Haumea from her 'ohana, while the two feet facing in opposite directions on top represents her life-changing rotationplasty surgery.
Her family and their business Uncle Lani's Mochi, have a long history of helping to change the lives of local keiki treated at Kapiolani.
"I want to say over 10 years now, we've been fundraising for the Children's Miracle Network at Kapiolani," said Haumea's grandmother, Charmaine Naauao-Ocasek. "Now all of the fundraising that we've done is actually hitting home for us – with it helping Haumea."
Now the girl who spent much of her life in the hospital proudly owns dolls with prosthetic legs, dreams of growing up to work for her family's mochi-making business and wants to play volleyball.  Haumea and her super foot are truly unstoppable.
"Haumea is proud of who she is," Kainoa said. "She is one of the strongest people I know."