Inspire 2020 FALL
Wilcox: Changing the World for the Better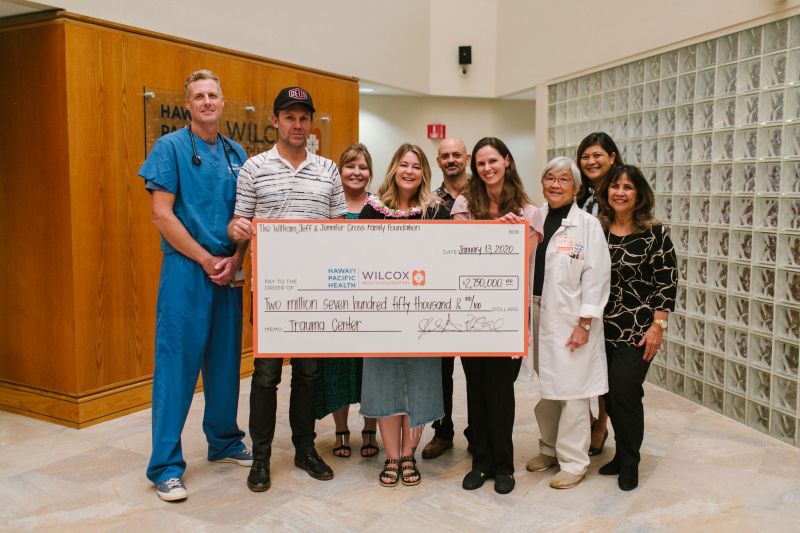 Healthcare centers like Wilcox Medical Center are on the frontlines of impact where you can literally see the face of change from day-to-day.
Jennifer Gross, Wilcox Emergency Department and Trauma Center donor
Jennifer Gross was a teenager when her father, William "Bill" Gross, made his money as an investor and fund manager. He decided to become a philanthropist and that his kids should help him determine where donations should go. And that's exactly what they did together. "It's been a process for the entire family to experience by giving to people every year," Jennifer said. "I think we've definitely grown closer together as a family, as a result of it."
The first gifts from the William, Jeff and Jennifer Gross Family Foundation have now grown to millions of dollars annually. In 2019, the foundation gave $19.5 million to 45 not-for-profit groups across the globe. Last year, Wilcox Medical Center on Kauai received the largest gift of $2.75 million.
"Good healthcare begins and ends with the systems around it that bring in the medical staff, funding and materials needed to ensure high quality care and access to cutting-edge research," Jennifer said. "It's not enough to think about our local hospital as a stand-alone project. I think it's important to think of it as the branch of a tree that succeeds or fails based on the strength of its roots. I hope this gift will not only strengthen Wilcox Medical Center's example as a leading hospital in Hawaii but also serve as an example for how to optimize health care in other islands around the world."
The Gross family is committed to meaningful causes with a focus on humanitarian efforts, education and health care. The generous gift made by the William, Jeff and Jennifer Gross Family Foundation supports Wilcox's current fundraising campaign to upgrade its emergency department and expand its trauma services. For Jennifer, giving to medicine reminds her of her mom, Pamela Roberts, who spent 45 years working in an intensive care unit.
"She told me so many stories about the life-threatening situations she saw people in daily," Jennifer said.  "She taught me how essential it is for all people to have equal access to outstanding care in their most critical moments. And that outstanding care depends on access to funding."
Jennifer and her husband, Peter Stengaard, recently visited with Wilcox staff and toured the trauma center that will bear their name. Wilcox is Kauai's only Level III Trauma Center and was the first neighbor island medical center to achieve that designation. It is also Hawaii's first Level III Trauma Center to be verified by the American College of Surgeons.
"Kauai is a small community where health care can be so much more personal than in larger areas," Peter said. "You probably already know many of the patients that come through Wilcox's doors by first name. This makes it particularly powerful to improve what Wilcox can do for its patients. I just think that it is really cool to make this gift to Wilcox so it can, in turn, gift better health to the Kauai community."
About $4.3 million of the $5 million goal has been raised. The money will create two trauma resuscitation suites as well as renovate specialty spaces for behavioral health, infectious control, pediatric rooms and OB-GYN care. There are also plans to convert semi-private observation bays to private treatment exam rooms.
"The generosity of the William, Jeff and Jennifer Gross Foundation will greatly impact the health and well-being of the residents and visitors of Kauai," said Jen Chahanovich, President and CEO of Wilcox Medical Center and CEO of Kauai Medical Clinic. "The Gross family gift will help us expand our facilities and invest in new technologies and equipment that will benefit Kauai families for generations to come."
This community investment also provides peace of mind for the couple. They are part-time residents on the Garden Island. Jennifer spent her summers on Kauai since she was 6 years old and later introduced island living to Peter. They spent their honeymoon there and return on a regular basis to relax and visit with friends. After settling in to their new home on the North Shore of Kauai, they were motivated to find out more about Wilcox and were pleased with what they learned.
"Healthcare centers like Wilcox Medical Center are on the frontlines of impact where you can literally see the face of change from day-to-day," Jennifer said. "There's nothing more powerful than that, especially in our small Kauai community."