Inspire 2020 FALL
Pali Momi: Navigating Cancer Care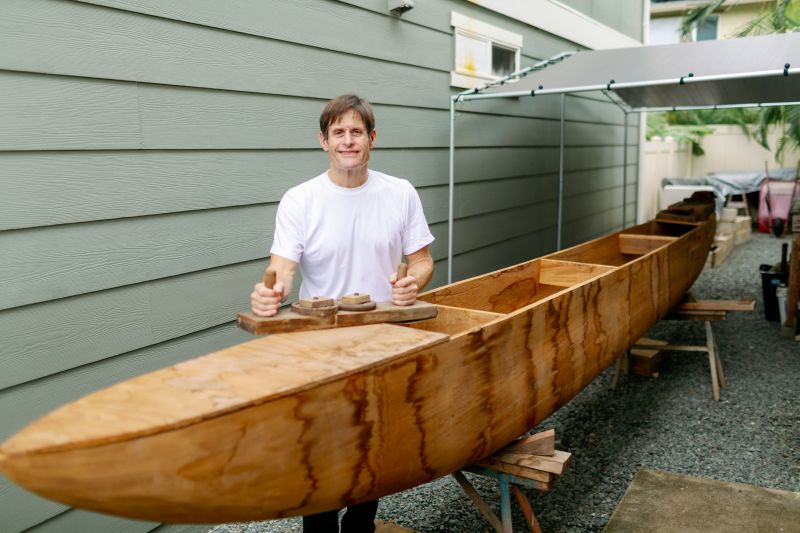 I'm so thankful I was here and I'm so thankful that the Pali Momi facility was practically brand new.
Rick Hobson, cancer patient
Rick Hobson has a passion for Hawaiian canoe paddling that has evolved over the years from paddling to canoe building. 
"I grew up the son of a carpenter so it just was natural for me to get involved with it," Rick said.
He was first inspired to try his hand at canoe craftsmanship by Tai Perry, a friend he describes as a father figure. Rick completed his first Molokai Channel crossing with Tai, then began learning how to build the vessels by shadowing the third-generation canoe builder.
"I became his apprentice," Rick said. 'It was a lot of hard work every weekend in between canoe races. I loved it."
Then all of the energy he put into sanding and shaping a boat came to an abrupt stop. In 2018, Rick underwent a routine endoscopic procedure when doctors found a tumor at the bottom of his esophagus that was putting pressure on his organs. He had esophageal cancer.
Rick was in disbelief. "I was an avid canoe paddler for the last 22 years, and I was in really good shape. I don't smoke. I don't drink. I mean how could I get cancer?"
Soon family and friends were rallying around Rick, some even offered to help him travel for lifesaving treatment. "I called a buddy of mine who had cancer and was going to fly me out to a hospital on the Mainland," Rick said. "I told him 'I'm staying home,' there's no reason this can't be done here."
The West Oahu resident chose to receive care close to home at the Hawaii Pacific Health Cancer Center at Pali Momi Medical Center where he went for his intravenous infusions of cancer-fighting drugs. It wasn't easy. Rick says the treatment wreaked havoc on his veins. He credits the caring nurses at the infusion center for helping him get through it. "I'm so thankful I was here and I'm so thankful that the Pali Momi facility was practically brand new," Rick said. "All the people there were perfect."
Rick and his wife, Janet, felt a special bond with Noelani "Noe" McGuire. Noelani is the patient navigator at Pali Momi and supports families dealing with cancer. The patient navigator provides insight to treatment, connects patients to medical teams and tests, and offers social and emotional comfort through one-on-one or group meetings with other cancer survivors.
"Noe spoke on a deep level to me, somebody who she didn't know, and allowed me to share," Janet said. "She responded in a way that made me feel heard, when no one else could understand what I was going through. It was different than what Rick was going through."
"Pali Momi does a class on Thursday, a support group," Rick said. "At the meeting, Noe connected us with a guy there who had the exact same surgery I needed, which is pretty rare. My wife was also able to talk to his wife about what to expect and what they went through. It was very helpful."
The infusions were just a first step. Next, Straub Medical Center surgeons Dr. Ayman Abdul-Ghani and Dr. Gregorio Maldini, removed the cancerous junction between the stomach and the esophagus.
The recovery is a lengthy process. A year after surgery, Rick still has to monitor what he eats and must sleep in an elevated sitting position. But he's been able to return to some of his favorite hobbies including surfing and paddling. He's also considering finally finishing a fishing canoe he was building from a 22-foot log that washed up on the beach.
"This canoe kind of represents what it takes to get through cancer," Rick said. "You know, it's similar because when I say I'm building the boat, it's not true—so many people are building that boat with me. I have a great wife, great family, I had a great team of professionals and came out the other side. "