Inspire 2019 FALL
Pali Momi: Stop the Bleed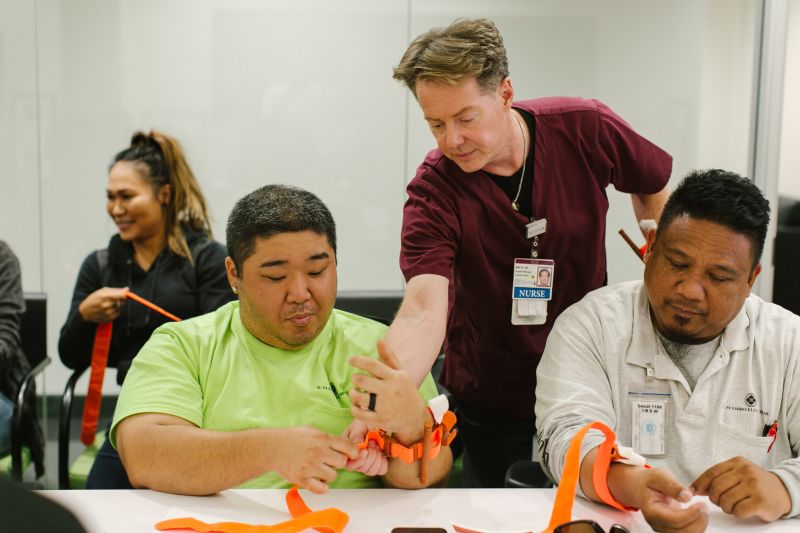 Providing this training and equipment to people across our state will lead to lives being saved in the event of a natural or man-made emergency.
In accidents or trauma, the top preventable cause of death is uncontrolled bleeding. In those key moments, bystanders can quickly become lifesavers with training from the Stop the Bleed initiative at Pali Momi Medical Center.
"Stop the Bleed training takes about an hour and anyone can do it," said Matt Wells, a registered nurse and trauma program manager at Pali Momi. "I've had people say after class that nothing about the training was difficult and that the potential to help someone stay alive has changed their mentality of never wanting to get involved."
People learn about the different kinds of medical emergencies and types of wounds that would need treatment. Then, health experts teach them how to respond by applying direct pressure, tying a tourniquet and packing the wound. Every participant gets hands-on experience by practicing on others and using open-wound simulators.
These are valuable skills. An estimated 30% of the people who die from traumatic hemorrhage could have been saved if someone had been able to keep them from bleeding out.
"Not all bleeding is caused by acts of violence," Matt said. "It can be caused by kitchen accidents, workplace injuries, and many other things that we do that put us in danger, from heavy equipment to sharp objects in our environment."
Recently, Matt trained more than a dozen employees from D. Suehiro Electric in Stop the Bleed techniques. Safety is part of the company culture, with team members there being offered training in everything from first aid to CPR.
"The only exposure I've really gotten on this is through movies," said Kehau Yokoi, project estimator for D. Suehiro Electric. "You see the Hollywood version of someone being dramatically saved with a tourniquet. Now I know what to do. If I ever get in this situation, I'll remember learning this."
"I could see how this will help in the field for work and in life because accidents can happen anywhere," said Mika Pokakaa, field superintendent for D. Suehiro Electric. "If you're prepared and you have training, you feel a little more comfortable doing it."
Suehiro Electric is not only encouraging employees to participate, it is giving back so more people can learn these lifesaving skills. A company donation has enabled Pali Momi to offer Stop the Bleed classes to more than 1,000 people so far. Matt manages the free Stop the Bleed classes along with Pali Momi Trauma Medical Director Dr. Maria Ver, Trauma Program Specialist Rachel Ropke and other trauma surgeons. They've worked with employees from Aloha Stadium, Stan Sheriff Center, the city's Department of Emergency Management, and Honolulu Zoo, as well as faculty and students from several high schools.
Pali Momi Foundation also donates Stop the Bleed kits, which contain multiple packs of tourniquets, gauze, gloves and trauma dressings. Many times Stop the Bleed kits are mounted on a wall near an AED (automated external defibrillator) to create an Emergency Response Station.
"While we hope that no one has to use these training techniques and supplies, we believe that it's a matter of when, and not if, they could save someone's life," Matt said. "Providing this training and equipment to people across our state will lead to lives being saved in the event of a natural or man-made emergency."
The Stop the Bleed program began in 2015 as a public safety initiative adopted by former first lady Michelle Obama. Trauma centers across Hawaii adopted it as a collaborative effort two years later, with Matt as the statewide coordinator, but after some time funding ran out. Fortunately, Pali Momi was able to continue this valuable program through donations to the Pali Momi Foundation. Today, the free classes are still available for anyone who wants to learn the lifesaving techniques.
"Safety is a top priority for our team of 60 employees, both professionally and personally," said Daryl Suehiro, president of D. Suehiro Electric. "We are honored to fund Stop the Bleed at Pali Momi in order to keep this valuable program alive, it empowers the people who are trained and benefits everyone."