Inspire 2019 FALL
Straub: Caring for a Hero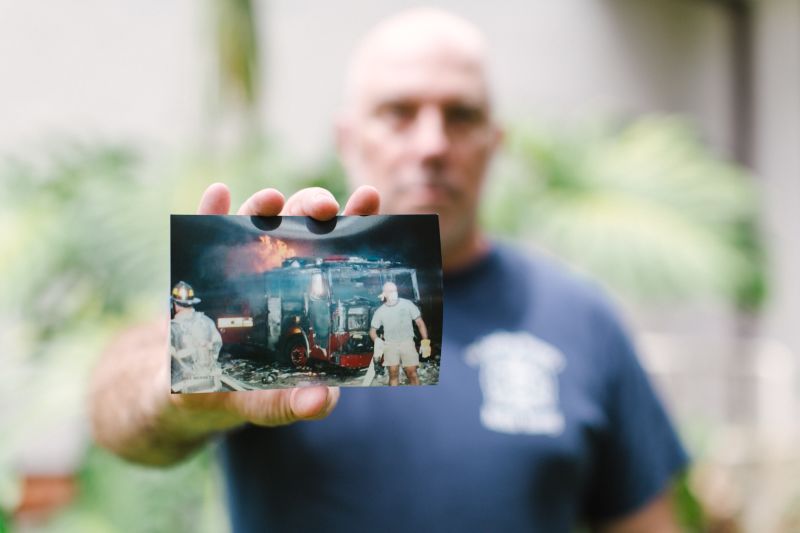 The air was pitch black and the dust was so thick that it kind of looked like snow. That's when I realized the north tower and south tower [of the World Trade Center] collapsed.
Life in Hawaii and across America changed forever on the morning of September 11, 2001. This is especially true for the families and friends of those who were lost and the first responders who rushed to the scene of the attacks at the World Trade Center. On that horrific day, Dan Moynihan was a New York City firefighter.
"I walked one block down and remember a jet engine from a plane sitting on the corner," Dan said. "The air was pitch black and the dust was so thick that it kind of looked like snow. That's when I realized the north tower and south tower [of the World Trade Center] collapsed."
Dan worked for a month straight at Ground Zero amongst the rubble and ruins of the 110-story towers — all the while inhaling powdered debris into his lungs. Soon after, Dan developed chronic lymphoproliferative disorders, asthma, trouble exhaling and post-traumatic stress disorder, among other conditions. But one of the most physically painful problems was cluster headaches.
The headaches were severe and sudden, often sending Dan to the emergency department. The condition requires a specific treatment regimen and a group of supportive health care providers. Dan found both at Straub Medical Center.
Dan's husband, Jarret, was born and raised in Hawaii. The islands have become a second home because the mild weather eases Dan's symptoms.  But as he travels between New York and Hawaii, Dan carries a binder holding his medical history and doctors' notes about his treatment, in case he ever becomes too debilitated to explain the complexities.
It is a necessary precaution. Dan has been admitted to Straub's Emergency Department four times. The team there has helped him with compassion and care. Straub's staff has come to understand Dan's specific needs when a cluster headache hits, which sometimes requires a quiet and dark isolation room to relieve his pain. Dan also checks in regularly with Straub Neurologist Dr. Brandon Hirota. "Dr. Hirota really puts you at ease and his staff is amazing," he said. "Dr. Hirota knows all this stuff inside and out and he knows how to treat it."
Dr. Hirota says cluster headaches are not very common but tend to affect men. The condition often causes involuntary body functions including tearing, eye redness and nasal discharge. The pain is typically quite severe and usually occurs on one half of the face. "As the name suggests, this type of headache disorder is usually characterized by a 'cluster' or run of headaches that may last days to months," Dr. Hirota said. "Dan's treatment protocol is quite complicated. In actuality, he is being followed for a total of four different headache disorders, each with its own treatment regimen. I view us as his safety net. If his treatment regimen is not working, we are ready to step in and help out."
And Dan's Straub team is expanding. When he began feeling persistent pain in his knees, husband Jarret recommended his classmate Dr. Cass Nakasone. The Straub orthopedic surgeon performed robotic knee surgery on Dan. "The first week, I was already on the walker bearing a little bit of weight and by the middle of the second week, I couldn't wait to get rid of the walker," Dan said. "Between Dr. Nakasone and my physical therapist, it's phenomenal. I'm having the other knee done next year!" He's even seeking a primary care physician for regular checkups.
All of the pain and challenges Dan continues to struggle with have inspired the firefighter to help others through legislation. He often travels to Washington, D.C., to advocate for veterans' bills, as well as for health and compensation for the first responders who found themselves on the front lines of one of our nation's biggest tragedies.
"One thing I ask people to know is that we did our best to get everybody back to their families," Dan said. "We did our best to get everybody out of the buildings. We treated every set of remains with the highest amount of respect. We tried our best to get everybody and I just hope everybody knows that."