Inspire 2022 FALL
Kapiolani Children's Miracle Network: An Enduring Journey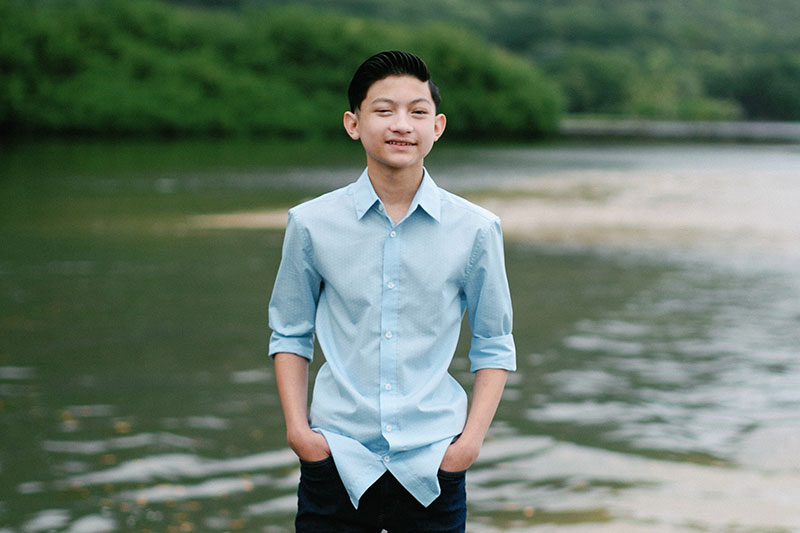 The Kapiolani medical staff instilled hope in us. They gave us Xander back. They saved our son.
Ronnie Cabales, Xander's dad
Xander Cabales says his mission in life is to inspire others.
"It's important for me to talk about all of the things that Kapiolani Medical Center for Women & Children did for me to get where I am right now," the 16-year-old said.
Nine years ago, Xander experienced a life-changing event. He had just finished the second grade and was enjoying his summer playing with friends and his brothers.
"Xander was super energetic. He was funny, outgoing – the kid who would get up on stage and dance," said his mom, Laura.
Then, the 7-year-old came down with a fever. His parents gave him over-the-counter medicine, but by the next morning, Xander's fever had spiked to 105 degrees and a severe rash covered his body.
Then, the skin around his eyes and mouth began to slough off and his breathing became shallow.
Laura and her husband, Ronnie, took Xander to a nearby emergency department. But even after doctors diagnosed and treated him, his parents knew something still wasn't right.
"The rapid course the illness was taking made us think, hey, this is something worse off than what they're telling us," Ronnie said.
They took Xander to the Kapiolani Medical Center Emergency Department for a second opinion. There, infectious disease specialist Dr. Marian Melish diagnosed Xander with the life-threatening skin disorder Stevens-Johnson syndrome (SJS) and, later, toxic epidermal necrolysis (TEN), a severe form of SJS that only affects about one in a million people each year.
"It was such a shock," Laura said. "I'd never heard of it. I had no idea what it was. To be prepared for him not only to not come home but possibly not make it through that day was … there are no words to describe it. It was probably the lowest we'd ever been."
A Battle for His Life
Xander was placed into a medical coma and spent four weeks on life support in the Kapiolani pediatric intensive care unit before showing signs of responsiveness.
"Toxic epidermal necrolysis is a condition that is rare, but not so rare that we didn't already have a protocol at Kapiolani for dealing with it," Dr. Melish said. "We had been quite successful in the past by treating patients as if they had a major burn. This allows the damaged skin to heal. It was important to treat his airway as well, which meant that his throat needed to have a tube put in it to help him breathe."
"As parents, you don't know what to expect," Ronnie said. "But after seeing how they were taking care of him, that spoke volumes to us. It was like, we've got him; you guys don't have to worry."
Due to the infection, Xander lost 60% of his skin. His eyes, skin, lungs and esophagus were severely damaged. His road to recovery required the care of several specialists at Kapiolani, including ophthalmologist Dr. David Young.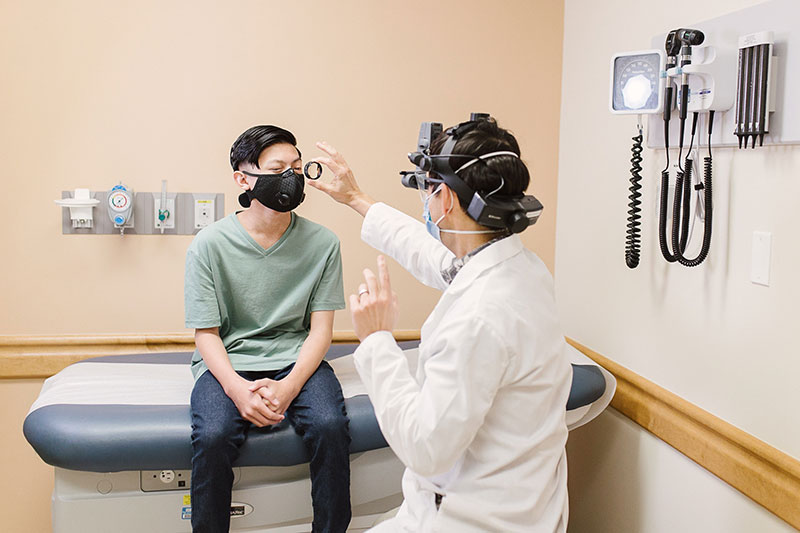 "Given the rarity of this disease and how severe it can be for children, this was the place to be," Dr. Young said. "To be able to coordinate all the different specialties – infectious disease, ophthalmology, the nurses who specialize in children's health – this is what it takes to care for a child in Hawaii."
As his health improved, Xander needed to relearn how to hold his head up, sit, walk, talk and eat. The rehabilitation and Child Life teams at Kapiolani used video games to motivate him to continue his difficult but necessary therapy.
"I often felt weak, so being able to play video games at Kapiolani was something I could enjoy that was helping me get better," Xander says. "A lot of the doctors and nurses were very supportive and would cheer me on."
Xander's family attributes his miraculous recovery to the team of Kapiolani specialists who cared for their son.
"The medical staff instilled hope in us," Ronnie said. "They gave us Xander back. They saved our son."
Sharing His Journey
Xander is now preparing to enter his junior year of high school. He enjoys jiujitsu and expressing his creativity through detailed drawings of dinosaurs, monsters and superheroes.
"He is so proud of who he is and the journey he's been through," Laura added. "He's proud of his scars. That reassures me that we should be the same way – embrace our imperfections that are not really imperfections. They make us unique, and they just show how strong he is."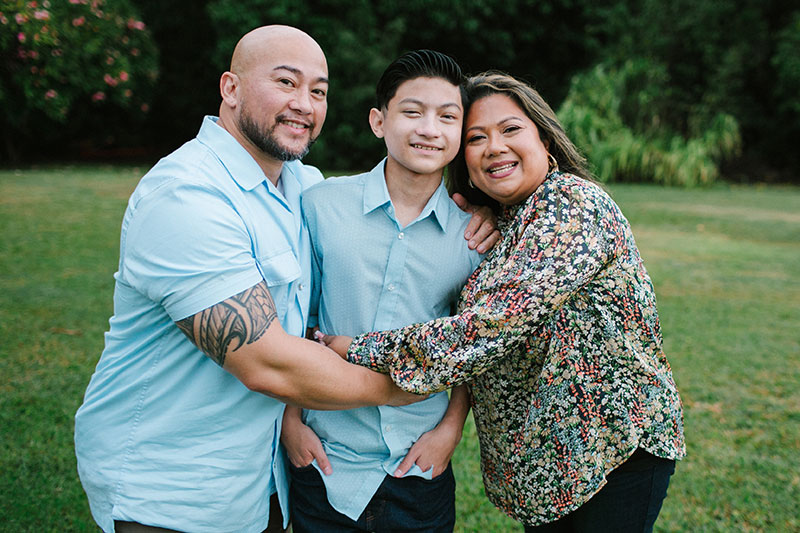 His resilience made Xander a natural choice for Kapiolani's 2022 Children's Miracle Network Champion.
"Xander represents just how difficult some of these medical problems can be and how it takes a special place and a special person to be able to come out of that as well as he did," Young said. "Xander is a champion – he's Kapiolani's Champion in being able to showcase all the good things that can happen here."
As Xander embarks on his Champion year, he is most excited to share his message of positivity, kindness and resilience with others.
"Most people may not know me as of right now, but through this, a lot of people can understand my story, and they can understand what a lot of kids in the hospital may have gone through," Xander said. "Being able to show how much Kapiolani did and what they accomplished to help save me – that's a really big part for me in being a Champion."
Inside the Design
Xander's story of strength and perseverance is captured in his Champion pin, which the aspiring young artist designed himself.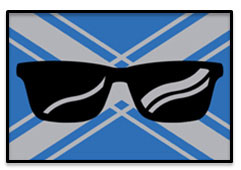 "It really symbolizes different things that may not be pointed out unless you knew the context behind it," he said.
Sunglasses are Xander's trademark accessory, and not just because they look cool. Because of SJS/TEN, Xander developed photophobia, or sensitivity to light. Dark sunglasses help protect his eyes.
The cracks in the lens represent Xander's scars, which he has all over his body. Xander is proud of the marks which represent his strength and what he has overcome. He encourages other kids to be proud of their own "battle scars."
Blue and black are Xander's favorite colors. Blue also is the color for SJS/TEN awareness.
The "X" represents the unique spelling of Xander's name.
The black border symbolizes the protection and never-ending support of his family.
"It is truly indicative of who he is and how strong of a person he is, especially through this journey," said his dad, Ronnie.