Inspire 2022 FALL
Wilcox: Incredible Journey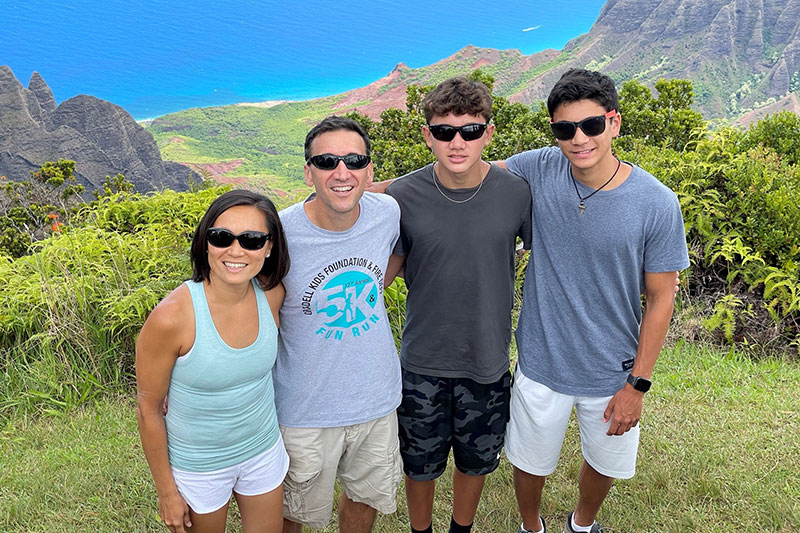 It's definitely a different experience being on the receiving end of health care. ... I'm eternally grateful to everybody who was involved.
Dr. Dee Dee Wu, Wilcox patient
Dr. Dee Dee Wu's trip to Kauai in 2021 was memorable, but it is what she doesn't recall that stands out most in her mind. "From the time I went into the water before waking up in the hospital, I don't have any memory of what happened," Dee Dee said.
The rheumatologist from New Jersey was visiting Anini Beach when her husband, Brian, spotted some turtles and invited her and their sons to snorkel with him. As they swam in, something went wrong. "I've snorkeled many times before, but when I didn't join them, my husband swam toward me and soon realized I had passed out," Dee Dee said.
Brian and their 13-year-old son, Justin, started to bring her to shore. An off-duty lifeguard who happened to be nearby and another man got her to the beach where Kauai lifeguards immediately started CPR.
Paramedics rushed Dee Dee to Wilcox Medical Center's Emergency Department (ED). Emergency medicine physician Dr. Thomas Del Ninno was among the first to treat her.
"I focused on optimizing Dee Dee's resuscitation and then providing her ventilation," Dr. Del Ninno said. "Immediately, the respiratory therapists helped manage her ventilator and kept a close watch on her. We also placed an arterial catheter in to continuously monitor her blood pressure to prevent brain damage."
With her medical background, Dee Dee recognizes the critical steps taken to save her life. "From being in the intensive care unit to being intubated in 16 hours and then leaving Wilcox three days later, it's a pretty amazing turnaround," she said.
Wilcox ED teams treat an average of about one or two near-drowning patients every month. Dee Dee's case is one of several being studied in Hawaii as a possible instance of rapid onset pulmonary edema, or ROPE. ROPE can occur while snorkeling or scuba diving. Breathing through a narrowed tube generates negative pressure in the chest, which can result in the infusion of fluids into the lungs.
"It's definitely a different experience being on the receiving end of health care," Dee Dee said. "But I never felt scared or abandoned as a patient. I could not have asked for a better outcome really. I'm eternally grateful to everybody who was involved."
Dee Dee says she is back to her regular exercise routine back home in New Jersey and is looking forward to making new memories during her family's next trip to Kauai, hopefully soon.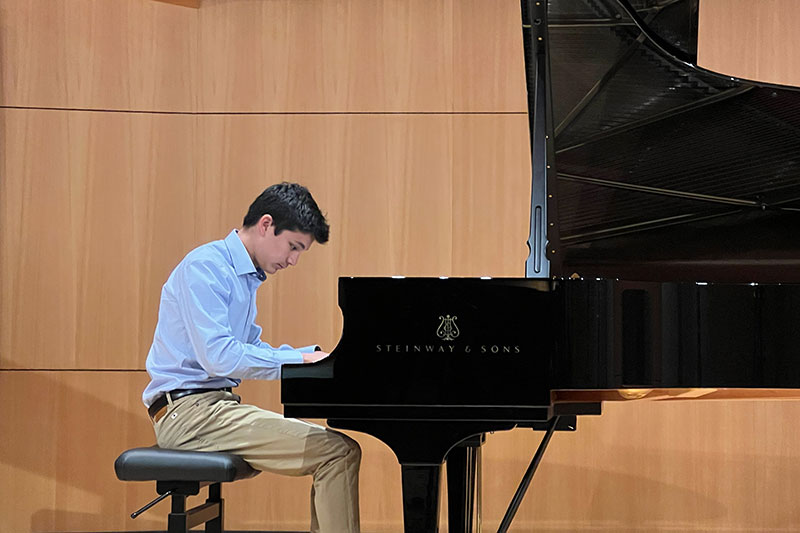 On a Good Note
Dee Dee's son, Jacob, celebrated Wilcox Medical Center with his music. Jacob has been playing piano since he was 7. Now 17, he performed a virtual concert of "Un Sospiro" by Franz Liszt, one of his favorite pieces, and raised more than $13,000 in donations for Wilcox, the Kauai Lifeguard Association and Life's Bridges.