Inspire 2022 FALL
Pali Momi: Coming Full Circle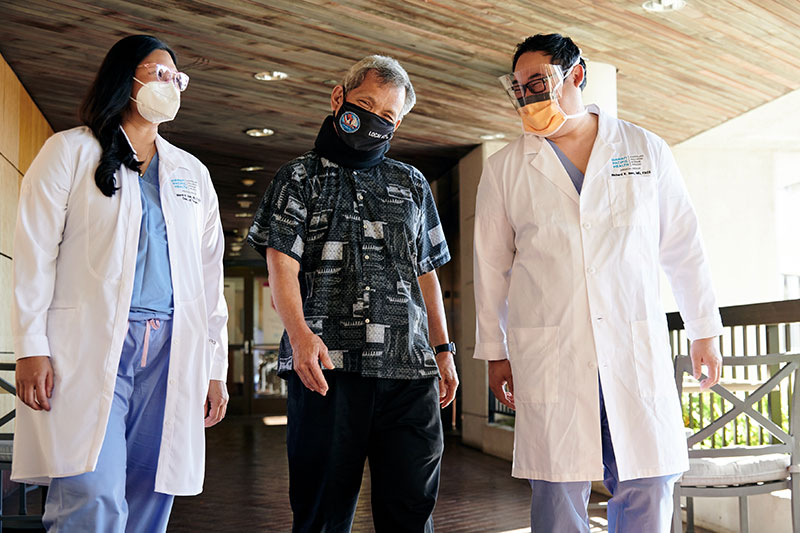 I believe Glenn was and still is blessed. He needed a trauma hospital, and Pali Momi was ready to care for him.
Dr. Richard Inae, Pali Momi surgeon
One early Sunday morning in summer 2019, Glenn Tango set out on a bike ride from his home in Waikele. As Glenn pedaled along Managers Drive, he spotted something on the side of the road. He swerved to avoid it but lost control of his bike.
The tires slid out from under him, and Glenn fell. The landing was hard, heavy. Glenn got up and checked for injuries. He felt a small cut near his eye and slightly sore on his left side, but overall, he felt OK.
A couple saw Glenn fall and called 911, just to be safe. When the ambulance arrived and EMTs began to check Glenn's vitals, he called his wife and asked her to pick up him (and his bike). She urged him to go to the hospital for a full checkup.
Knowing he wouldn't win the argument, Glenn started climbing into the ambulance. Mid-step, he turned pale. His blood pressure dropped. He felt sick.
The ambulance rushed Glenn to Pali Momi Medical Center and within 30 minutes, he was in the Emergency Department being prepped for a CAT scan.
An Emergency Situation
The images revealed Glenn's left kidney had ruptured. He was bleeding internally and needed surgery, fast.
Pali Momi Trauma Medical Director Dr. Maria Ver and surgeon Dr. Richard Inae both were at the medical center that day and performed the procedure necessary to save Glenn's life.
"I believe Glenn was and still is blessed. He needed a trauma hospital, and Pali Momi was ready to care for him," Dr. Inae said.
The team removed his kidney, but Glenn's journey to recovery had just begun. Due to the initial trauma, his intestines and soft tissue in his abdomen were severely swollen, which required additional surgeries, blood transfusions and a lengthy rehabilitation process.
Glenn stayed in Pali Momi's intensive care unit for three weeks. Though he was away from home and his family, Glenn remained positive thanks to the caring nurses and aides who visited him each day.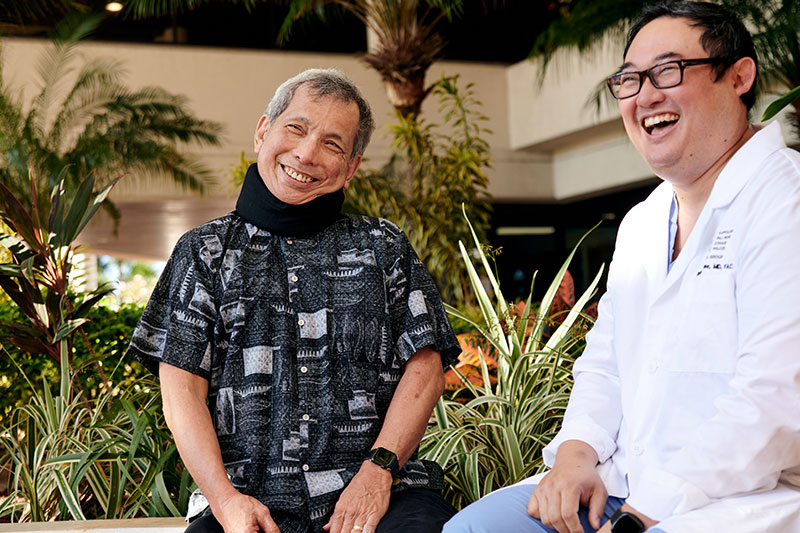 "They're all so nice!" he said. "Dr. Ver and Dr. Inae are very personable and Dr. Inae is a well-experienced trauma surgeon. I was very happy with the care I got from Pali Momi."
"We're lucky here at Pali Momi that we have a culture of teamwork and collaboration in which people are always willing to help," Dr. Ver said. "It's rewarding as a physician to know that the program that you developed works."
Continuing Care
A year later, Glenn needed hernia surgery. He returned to Pali Momi and his trusted surgeon, Dr. Inae.
"A bond forms between the patient and the physician, especially when it comes to surgery," Dr. Inae said. "The patient and the patient's family build trust in the surgeon. In Glenn's case, this trust was accelerated by a life-or-death situation and was further reinforced during his recovery process."
Like many who call Central and West Oahu home, Glenn's connection to the medical center runs deep. He grew up "right down the road" on Pali Momi Street and recalls visiting Dr. Joseph Nishimoto – Pali Momi's beloved founder – at his plantation-style clinic in Pearl City.
"It was just a one-doctor operation with his nurses. He was a pretty down-to-earth guy, friendly guy," Glenn said.
He and his family continue to hold a connection to Dr. Joe and Pali Momi to this day.
"My family has a lot of experiences over here," Glenn said. "My sister has made use of the Emergency Department in the last few years, and my mother came here many years ago."
"It is wonderful to know that Glenn trusts that Pali Momi will give him the highest quality of care to ensure he has the best outcome he can have," Dr. Inae said.
Glenn officially "graduated" from follow-up care in October 2020. Though happy to see his patient return to full health, the surgeon knew he'd miss Glenn's visits and his "tough" but jovial personality.
"He was a big part of our general surgery clinic family for 16 months, and we still remember him and will continue remembering him for years to come," Dr. Inae said.
Today, Glenn has resumed his active lifestyle. When he's not at work, he enjoys taking in the arts and going to the theater with his wife, Elizabeth. Glenn walks a few miles every day and spends weekends stand-up paddling at Ala Moana Beach Park.
He's also back in the bike saddle, regularly joining group rides along the Pearl Harbor Bike Path.
As a token of gratitude, Glenn and Elizabeth sent a donation and a note to honor his surgeons and his nurse Marissa for their exceptional care during Glenn's unexpected time of need.
"We appreciate when people and foundations support our community. Hawaii Pacific Health and Pali Momi Medical Center are big parts of that," he said.