Inspire 2022 FALL
Kapiolani: At the Center of Care

We all work together to support the family, because they become like our family ... we lean on each other.
Dr. Wade Kyono, Kapiolani pediatric oncologist
A battle with cancer is a journey. It is often fought month by month, week by week, and day by day by patients, their family and friends, and dedicated oncology doctors, nurses, technicians and medical teams across Hawaii.
For about a thousand women and children every year, that journey of care takes them to Kapiolani Medical Center for Women & Children. And soon, it will begin in a new, expanded specialized Cancer and Infusion Center just for them. The new center will accommodate the latest technology and treatments for pediatric, breast and gynecologic cancers, as well as auto-immune and neuromuscular diseases, and other conditions that require lifesaving infusions.
Just as essential to the new space is a sense of comfort for women and keiki who may be facing years of treatments.
The Cancer Journey
"We're with the patient for a lifetime," said Dr. Michael Carney, who has been treating gynecologic oncology patients at Kapiolani for more than 20 years. Unlike other cancer specialists, gynecologic oncologists are with patients throughout their specialized care — from diagnosis to surgery to any short- or long-term medical management. "With the new treatments, fortunately, we're prolonging lives which means we see people for a lot longer, and that's a good thing."
When it comes to kids, pediatric oncologists begin seeing some of their patients as infants and help them as they grow through stages of their care.
"I have patients in their 30s who will need transfusions every month for the rest of their lives," said long-time pediatric hematologist and oncologist Dr. Wade Kyono.
Transfusions and infusion treatments take time. Patients on chemotherapy may need to come in daily for several days, or every few weeks for several months. In some cases of breast cancer, even in early stages, women may need weekly treatments for a year to prevent cancer from returning.
"It's just overwhelming. Women can quickly go from seeing something unusual on their mammogram to having their lives completely turned upside down," said Kapiolani medical oncologist Dr. Jami Fukui. "They'll meet with a surgeon, a medical oncologist, a radiation oncologist, infusion nurses, other social workers, nurse navigators and medical assistants. A whole team is there to help them throughout their treatment."
Treatments can be draining. Chemotherapy and infusions take a minimum of two to three hours, but the additional steps needed to ensure patients do not suffer dehydration or other side effects can lead to a seven-hour visit.
"It may take another four to six hours to give IV fluids before they are able to go home," Dr. Kyono said. "Sometimes we need to monitor someone who just doesn't feel well. Perhaps they can't hold anything down, so we're giving them IV fluid and antifungal medication for as long as we can during the day so they can go home instead of having to stay overnight in the hospital. Then they may return the next day to do it all over again."
For many women — who are often the primary caretakers for family or friends — those hours are still working hours.
"They're still coordinating everything else they have to do for the day, it's just that they're doing it remotely and from the chemotherapy chair," Dr. Fukui said. "The space we have is not really sufficient for someone to have a virtual meeting or conversation, or to bring their laptop. It is very tight and if you are sharing the area with someone else, that's really difficult."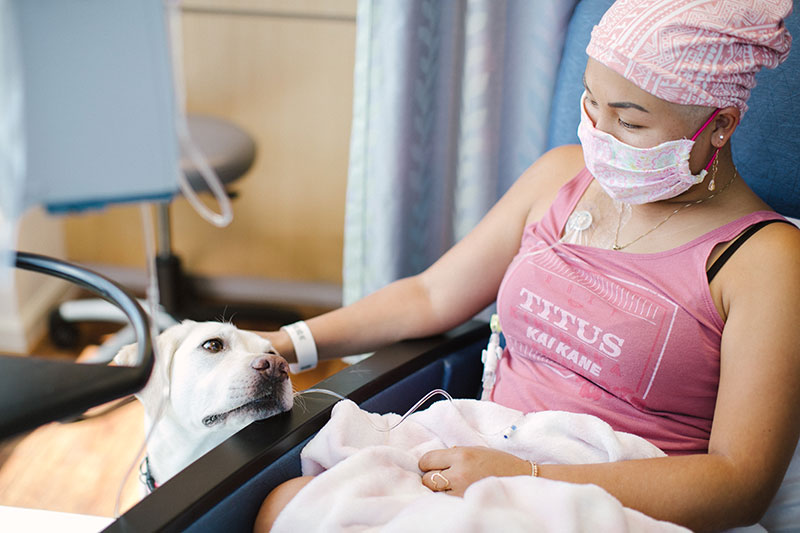 Expanding Space for Cancer Care
The current infusion area in the Women's Cancer Center at Kapiolani consists of five bays separated by curtains. And in Hawaii, patients rarely come alone. Parents sit with their children who are undergoing treatment. Entire families come in to support their moms, grandmothers and aunties. Nurses will also often spend some time sitting with patients, talking story while gaining valuable insight into their emotional and physical conditions.
"We're definitely a little crowded," Dr. Carney said. "Most days, we need space for seven or eight or nine people to receive infusions. We are treating everyone, but we can achieve a better experience."
Downstairs, the Children's Cancer Center has four rooms and three bays. The space can be challenging when the team is working with several kids who have received transplants or are undergoing chimeric antigen receptor (CAR) T-cell therapy, which alters patients' own T cells so they bind to cancer cells and kill them. Both are immunocompromised and must be isolated from others.
Expanded space for patients, their families and friends, and the various medical teams involved in Kapiolani's well-coordinated care are part of the initial plans for the new center. This includes nonclinical areas where doctors and families can have sensitive and sometimes emotional conversations in a safe, private place. Other items include comfortable chairs and serene surroundings for patients and those supporting them through those long treatments, as well as dependable Wi-Fi. There are also ideas for play spaces for the youngest patients as well as children spending time with their mothers who are undergoing treatment.
Also, by bringing both cancer centers together, oncologists, surgeons, radiation oncologists, pathologists, psychiatrists, social workers, nurses, nutritionists, pharmacists and specialists will be able to more closely collaborate on comprehensive care plans aimed at one shared goal: turning cancer patients into cancer survivors.
"We all work together to support the family because they become like our family," Dr. Kyono said. "You share the good times and during the bad times, we lean on each other."
"I feel so privileged to meet these wonderful women at such a vulnerable time in their lives," Dr. Fukui said. "The things they share and the insights they have from seeing the world in a different way motivates me every day."
"I never cease to be amazed by these incredible patients, incredible specialists and incredible nurses. I have watched these nurses go so far beyond the call of duty to help patients and staff. It's heartening," Dr. Carney says. "It's the people around me who make it possible to do what I really love to do."
Pediatric Cancer Care at Kapiolani
Approximately 60 children are diagnosed with cancer and an additional 150 kids are actively treated for cancer at Kapiolani every year.
95% are in clinical trials.
Kapiolani is a member of the National Cancer Institute-sponsored Children's Oncology Group, which provides opportunities for young patients to receive the newest treatments in clinical trials.
Kapiolani is the only dedicated site for bone marrow collection and transplants for children.
Women's Cancer Care at Kapiolani
Approximately 450 women are diagnosed with breast cancer, with an additional 450 treated every year.
Kapiolani is the only women's cancer facility in Hawaii that specializes in treating breast and gynecologic oncology patients.
The center's specialized team treats expectant mothers with cancer as well as provides in-utero treatment for rare conditions including neonatal hemochromatosis which affects a developing fetus' liver.